Brand New Clip 'n Climb Centre Unveiled in France
We're pleased to announce the opening of Skywalls in Saint-Mard, France last month. This state-of-the-art facility spans an impressive 500 square meters, and with 16 of the best Clip 'n Climb challenges and an exhilarating rope course, Skywalls promises an unforgettable adventure for visitors of all ages.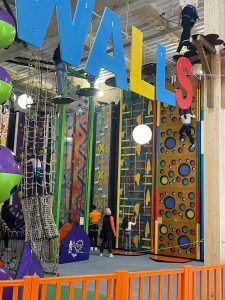 Feriel, an accomplished accountant, and Houssen, a skilled computer engineer, first started working within the leisure industry when they operated a small playground in Tunisia. Recognising the immense potential of the leisure sector, and their passion for creating a unique business project, motivated them to explore this avenue further.
When it came to selecting a partner, Clip 'n Climb was the clear choice, with its proven business model, large choice of colourful and fun challenges, and wide target audience, Clip 'n Climb provided the ideal foundation for their venture.
Houssen said of working with Clip 'n Climb "Throughout the project, the support and guidance provided by Clip 'n Climb stood out. From the initial stages of planning to the development process, the team at Clip 'n Climb ensured that we received the necessary assistance and advice. This collaborative approach fostered a strong relationship resulting in a smooth process and a high-quality leisure centre that has already seen repeat visitors."
Among the many outstanding features of Clip 'n Climb, Feriel and Houssen particularly appreciated the variety of challenges on offer. Feriel says: "Each Clip 'n Climb experience is unique, providing a diverse range of obstacles to conquer. The Astroball is my favourite so far, and with three different lines and a relatively small footprint, it helps to maximise on the arena capacity without affecting the customer experience."
The launch of Skywalls sees the number of Clip 'n Climb centres reach 367, and with more centres set to launch soon, this number continues to climb!