Clip 'n Climb and Fun Spot at IAAPA Expo Europe 2021
Entre-Prises brands Clip 'n Climb and Fun Spot will be exhibiting at IAAPA Expo Europe 2021 in Barcelona from 27 to 30 September. The trade show is an all-encompassing destination for leisure and attractions industry professionals, and the industry's biggest event in Europe, the Middle East, and Africa.
The Entre-Prises family out in force at the show
Clip 'n Climb will be joined at the show by its US-based sister company Fun Spot, a leading provider of full sportainment solutions. Fun Spot joined the Entre-Prises family in 2018, and has launched a number of multiactivity and entertainment parks in Europe in the past year. Fun Spot works with the leading brands in the leisure and attractions industry, offering a range for adventure parks that includes soft play, trampolines, ninja courses, ropes courses, climbing, indoor playgrounds, and much more.
The Champion's Series, building on the Olympic buzz
As part of Entre-Prises, the official manufacturer of the climbing walls for the Tokyo 2020 Olympics, Clip 'n Climb this year introduced its own replica versions of the Lead, Boulder and Speed walls which featured in the Games. Designed to capitalise on the surge in interest that is sure to follow sport climbing's Olympic debut, these new Champion's Series walls will be on display in the Clip 'n Climb booth at the trade show.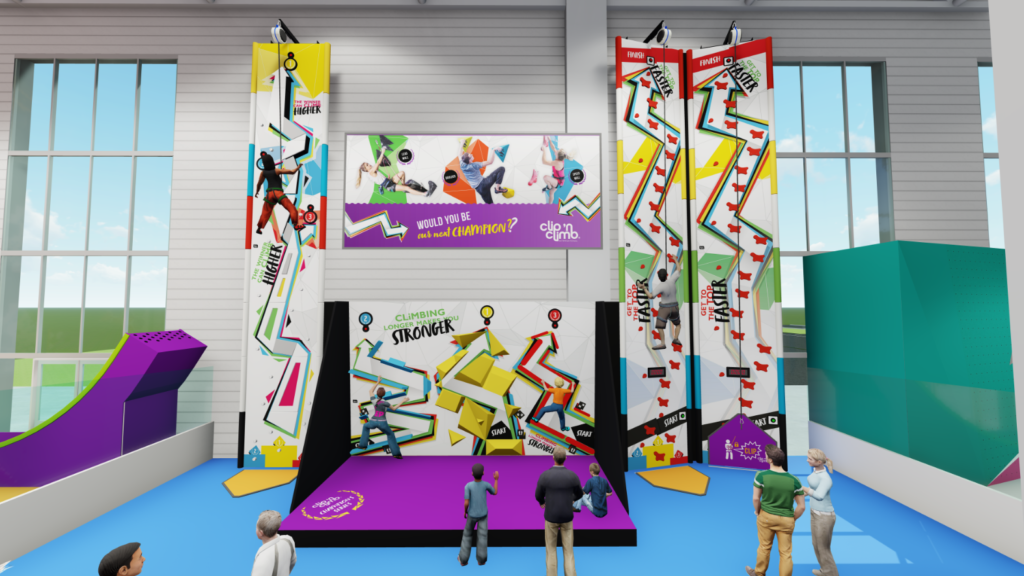 Join us in Barcelona!
Leisure and attractions industry professionals, including operators, suppliers, manufacturers, investors, developers, and anyone wishing to engage with the global amusement community, can find us in booths #1-953 and #1-954 at IAAPA Expo Europe. The trade show runs from 27 to 30 September 2021 at one of Europe's largest trade show venues, Fira Barcelona Gran Via in Barcelona. Our UK, Europe and Middle East regional experts will be on hand to offer advice and discuss all your sport climbing and sportainment projects.
Contact us for more information.