Clip 'n Climb Nottingham's Inspiring Refurbishment Journey
Running a successful climbing centre requires a commitment to innovation and providing an exceptional experience for customers. One way to achieve this is through regular refurbishments and the addition of new climbing challenges. We had the pleasure of interviewing the owner of Clip 'n Climb Nottingham, who recently underwent a refurbishment project, to understand the benefits and impact it has had on their centre.
Enhancing the offering
Before the refurbishment, Clip 'n Climb Nottingham offered normal sessions catering to a diverse audience, including families, corporate groups, and schools. However, recognizing the need to attract more schools, they undertook a refurbishment project to add a traditional climbing wall with extra lines. By collaborating with NICAS (National Indoor Climbing Award Scheme in the UK), they were also able to introduce NICAS and NICAS clip sessions, which have been gaining momentum since their launch. This strategic move expanded their target audience and allowed them to refine their offerings to better serve the community.
Introducing New Challenges
To cater to the increasing demand for family and toddler-oriented activities, Clip 'n Climb Nottingham installed the Ascendor challenge. This particular challenge has proven to be a hit, especially on weekend mornings for their toddler sessions, as it provides an easy climbing experience for young children while utilising minimal space. The addition of the Ascendor challenge has not only expanded their capacity but also increased customer satisfaction.
Creating a Welcoming Environment
A significant part of the refurbishment involved revamping the overall appearance of the centre. The entire facility was painted, new graphics were added, and furniture was upgraded to accommodate more parties. They also replaced the soft play area for toddlers, which was unsupervised and often attracted older children, for a small fenced off area with a padded floor and a selection of engaging toys for toddlers.
These changes not only refreshed the centre's look but also contributed to creating a welcoming atmosphere for climbers and their families. By investing in the aesthetics of the facility, Clip 'n Climb Nottingham has successfully attracted new and returning customers.
Efficient Implementation and Minimal Downtime
Undertaking a refurbishment project requires careful planning to minimise disruptions. Clip 'n Climb Nottingham closed their centre for 12 days to facilitate the refurbishment, but the impact was mitigated by selecting a period in mid-January. This allowed them to reopen before the February half term, ensuring they had ample time to test the new capacity before a traditionally very busy period for the centre. The efficient project management, led by EP-Climbing, played a crucial role in delivering the refurbishment on schedule.
Investment and Long-Term Benefits
Clip 'n Climb Nottingham invested £110k in this refurbishment project, including the installation of the EP-Climbing wall and the Ascendor challenge, taking their session capacity from 32 to 40. They also changed their party offering, reducing it to one hosted party package and two un-hosted, meaning they could redeploy staff and only needed to employ one more part-time member of staff to help in the climbing arena.
David Robertson, owner of Clip 'n Climb Nottingham, expects return on investment to be "within 24 months, 18 months if we have a typical British summer!"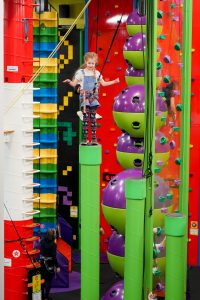 Encouragement For Other Centre Owners
When asked what advice he'd give to other centre owners considering refurbishment or the addition of new challenges, David emphasised the significance of assessing available space and diversifying offerings and said "Refreshing a centre can re-engage customers who may have drifted away during challenging times like the pandemic. Staying up to date with industry trends and observing the success of similar activities can provide inspiration and justification for investing in refurbishment projects. The long-term benefits of a refurbished centre, including increased footfall, improved customer experience, and the ability to attract new climbers, far outweigh the initial investment."
A Positive Impact
Clip 'n Climb Nottingham's refurbishment journey showcases the positive impact that revitalising a climbing centre can have on staff and customers. By adding new challenges and creating an inviting environment, they have experienced increased climbing numbers, which in turn has had a positive knock-on effect with higher café revenues. The success of their refurbishment project serves as an inspiration for other climbing centre owners to consider the benefits of investing in additional walls and challenges, when space allows.
David says of working with the EP team "I would like to extend my heartfelt thanks to the EP guys for delivering the refurbishment within a tight timetable. I pushed them to meet the deadline, and they exceeded expectations by going above and beyond to ensure the work was completed to their usual high standards. They kept me consistently informed, allowing me to focus on other aspects of the centre's refurbishment. They clearly care passionately about the Clip 'n Climb product and spend time looking after their customers. I had no hesitation, getting the refit in place, it really enhances our offering."
Take a look at Clip 'n Climb Nottingham's website here > https://www.clipnclimbnottingham.co.uk/
Feeling inspired to refresh your centre? Then please contact your sales representative or fill in our contact form. We'd love to help you grow your business further.