EXCITING NEW CHALLENGE UNVEILED AT IAAPA EXPO EUROPE
As the industry leaders in fun climbing, Clip 'n Climb is once again setting new standards with our latest innovation, Velocity, unveiled at the 2023 IAAPA Expo Europe in Vienna, Austria.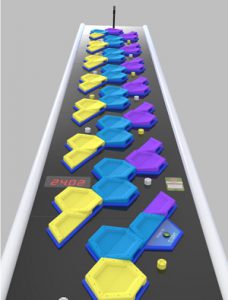 Appealing to a Diverse Audience
As with all our challenges, Velocity has been designed to engage climbers of all ages and skill levels. With additional foot holds and three different routes up the challenge, participants can choose the level that suits them best, with the hardest level designed to bring more climbing techniques into the Clip 'n Climb centre with side pulls and undercut holds. This inclusivity is at the core of our mission – making climbing accessible and enjoyable for everyone.
Keeping the Challenge Fresh
At Clip 'n Climb, we understand the importance of keeping your customers coming back for more. Velocity's multiple routes not only cater to a wide range of abilities but also add an element of challenge progression. Climbers can choose a level that suits them during their first visit and, if they desire, increase the difficulty during subsequent visits. This ensures that your facility remains engaging and attracts repeat visits.
Fostering Personal Growth and Loyalty
Velocity also features a timer which, unlike our other speed climbs, is focused on personal improvement rather than competition with others. This emphasis on self-improvement has the potential to encourage climbers to return to beat their personal best, fostering repeat business and cultivating a loyal customer base.
A Great Addition to Your Facility
With its technical elements, seamless integration of speed components, vibrant colour scheme, and accessibility to climbers of all ages, Velocity is a must-have addition to your centre.
If you'd like to find out more about Velocity or any of our other Challenges, please feel free to get in touch