Fun Spot and Clip 'n Climb teaming up at LeisurUp in Cannes
Clip 'n Climb and sister company Fun Spot are exhibiting at the LeisurUp show at the Palais des Festivals in Cannes from 30 November to 2 December 2021. This new event hosted by MAPIC is dedicated to accelerating location-based attractions into lifestyle destinations including retail sites, urban areas, transport hubs and travel destinations.
Fun Spot, the one-stop shop for sportainment solutions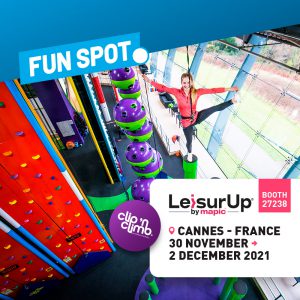 Fun Spot, the one-stop shop for multi-activity and entertainment parks, has a wealth of expertise in creating multi-activity leisure centres or zones in retail settings (a well-established concept known as "retailtainment"). The company works with leading brands to offer trampolines, Clip 'n Climb, ropes courses, ninja, indoor playgrounds and much more, bringing 40 years of expert experience in the leisure industry to the design and implementation of each and every project. Its centres come in a range of models suitable for any setting or location, offering fun climbing and adventure challenges for all ages in an extensively tested, completely safe area of 400 m² or more. Check out our case study about the Thader Dock 39 centre here.
In the past year, Fun Spot's EMEA sales organisation has designed more than 15 multi-activity leisure centres in Europe, such as the 7,000 m² centre in Besançon, France. The Besançon branch comprises of a 22-room 4* star hotel that has a 24-lane bowling alley, laser tag, a 170m² Clip 'n Climb zone that is sure to get your heart pumping, as well as a 570m² trampoline area, and various restaurants and bars.
Fun Spot: the benefits for investors
Did you know that Fun Spot's active entertainment solutions, which include Clip 'n Climb among others, are ideal for a wide range of facilities and settings?
Adventure zones can bring new life to under-used areas in shopping centres. Fun Spot's portfolio of products enables any family attraction and entertainment centre to develop a versatile, multi-activity leisure offer. A fun, active Fun Spot zone makes any setting stand out from the rest, creating a vibrant experience that draws in new customers and builds loyalty.
Where to find us!
Fun Spot and Clip 'n Climb will be exhibiting on Stand 27238 at the LeisurUp show at the Palais des Festivals, Cannes, from 30 November to 2 December 2021. Come along and check out all we have to offer! Our EMEA regional experts would be more than happy to talk to investors and owners of retail and urban sites about the benefits of creating a Fun Spot zone in various settings.
Contact us for more information.