Owner's Interview: Clip 'n Climb Braives
In our series of Owner's Interviews, we are this time going to Belgium to interview Olivier Jeanmoye the Owner of  Clip 'n Climb Braives.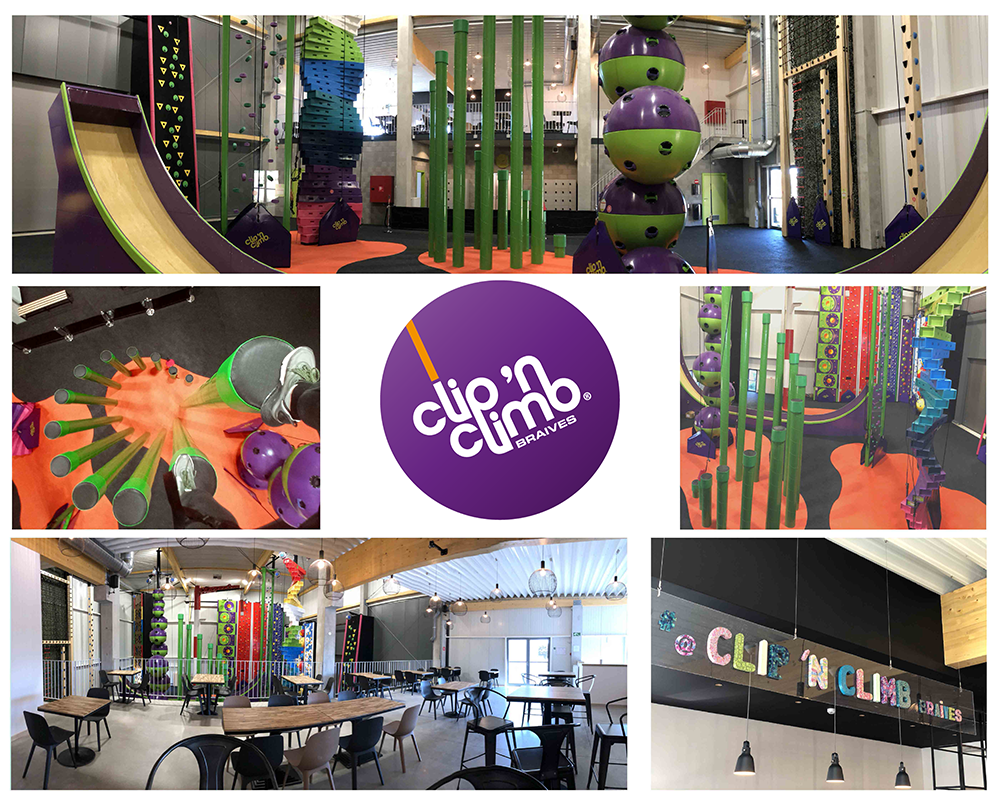 How did you find out about Clip 'n Climb?
Our encounter with Clip 'n Climb was a bit special… in fact, it was Clip 'n Climb that came to us!
We had just opened our first activity "L'Atelier", an indoor playground for children including a restaurant and an outdoor miniature golf course, when the sales representative of Adec Sport (distributor of Clip 'n Climb for the Benelux) came to present the product to us.
We were immediately won over by the concept, which is suitable for all ages, all in a very fun spirit!
So, we decided with our family and the students who were already working for us at L'Atelier, to go and try the Clip 'n Climb in Niedderhein, Germany. Everyone loved the activity and we all had a great time!
The idea was born and 3 years later Clip 'n Climb Braives was born!
How would you describe running a Clip 'n Climb?
Family: The Clip 'n Climb experience is an experience for the whole family: children, parents and grandparents. Everyone can participate or enjoy watching the participants surpass themselves. That is how we discovered Clip 'n Climb!
Fun for everyone: Team buildings, school, sports clubs, youth movements, stag and hen parties… everything is possible with Clip 'n Climb and even more!
Surpassing yourself: The most beautiful days are those when, at the end of a session, someone comes to thank us for what we have done. Telling us that they would never have dared to imagine doing this when they arrived.
What advice would you give to future Clip 'n Climb centre owners?
The location of your business is important, but so is the building. A well-thought-out space, the atmosphere you want to create and the layout are essential so that clients, whether or not they are climbers, feel comfortable.
Building a good team of instructors and having good communication between team members is essential to ensure that the Clip 'n Climb experience is enjoyable, and has a positive impact on the growth of your business. Customers expect and need instructors that know how to listen, pay attention and have a good sense of humour!
Not forgetting to develop good communication on social and/or other networks is also one of the keys to your expansion. Strengthening the brand will strengthen your business!
Share a Fun Fact about yourselves.
My wife Sophie is an architect and therefore made the plans for our centre and she loves to climb with our children when the centre is closed. The height doesn't scare her, but she hates to let herself go down on the TRUBLUE Auto belay and climbs down instead.
What is funny is that she often comes to reassure the most fearful climbers who don't dare to let go, she advises them, reassures them, makes them laugh and it always works! If they only knew that she didn't apply her advice to herself…
As for me, the first time I saw a Clip 'n Climb centre, I never thought I'd dare climb to the top and enjoy it, but that has changed! Also, my new work outfit is a sports outfit even though I never thought I'd be able to put the suit away.
To sum up our Clip 'n Climb adventure, it's only been fun and I got used to my jogging suit!
Did you enjoy Olivier's story and you are thinking about opening your own centre? Contact our team for more information today!