Partnership with Beano Delivers Exciting Opportunities for UK Franchisees
We're pleased to announce that we've partnered with Beano to bring a range of exciting opportunities for our franchisees over the next three years. This collaboration aims to enhance the value proposition for our franchisees by offering unique prizes, engaging craft activities, and a free Beano digital comic for all climbers.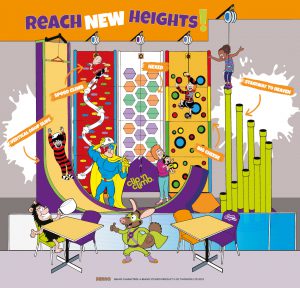 Partnering with Beano has many benefits, and not just for our franchisees:
Brand Association
Beano has an unparalleled reputation for being an iconic brand that has been entertaining audiences for an impressive 85 years. By aligning with Beano, Clip 'n Climb can tap into the immense popularity and positive sentiment associated with this long-standing brand. This partnership creates a compelling narrative that appeals to all ages, much like the universal appeal of Clip 'n Climb.
Reaching New Climbers
One of the most exciting aspects of the Clip 'n Climb and Beano collaboration is the opportunity to reach potential new climbers in a creative and engaging way. Through a free prize draw within the comic and promoted online at beano.com, Beano readers are given the chance to win one of five sets of family tickets to their local Clip 'n Climb centre. This reader offer not only generates excitement among the Beano audience but also serves as an effective tool for introducing new climbers to the thrilling experience offered by Clip 'n Climb globally.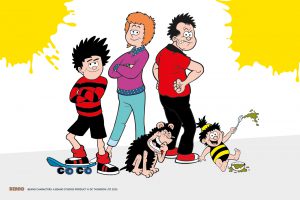 In addition to the comic promotion, Beano TV presents an excellent platform for advertising Clip 'n Climb. With 65,000 hours of monthly viewership, Beano TV provides a targeted and effective means of reaching a diverse range of potential customers. By strategically placing adverts on Beano TV, Clip 'n Climb can capture the attention of viewers who are already enthusiastic about the Beano brand, further expanding its reach and generating awareness among a wider demographic.
Creating an Exciting Summer Event
The school summer holidays can be a quieter period for indoor leisure activities. However, the partnership with Beano allows Clip 'n Climb to turn this lull into an event with a competition launched during the summer holidays generating excitement and anticipation, encouraging families to visit during their time off with the chance to win a money can't buy prize of a framed, illustrated family portrait created by a Beano comic artist.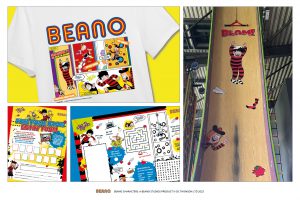 All franchisees have been provided with everything they need to make the summer competition a success, from vinyls for the drop slide and expertly designed Beano themed children's lunch boxes to exclusive Clip 'n Climb designed t-shirts and a full schedule of social media content.
And we've only just got started! The Clip 'n Climb Beano partnership is set to run for 3 years and we've exciting plans in the pipeline for this Christmas and beyond to keep climbers wanting to come back for more!
Eager to ascend to new heights and explore the exhilarating investment potential of owning your own Clip 'n Climb franchise? Then don't hesitate to contact us > https://clipnclimb.com/contact/