An agile mindset to face COVID-19
It is an unfortunate reality – the COVID-19 outbreak is affecting the entertainment industry, and most of our centres are closed. We are fully aware that this situation is disruptive. It is important to stay positive, however, and treat this as a transition period for your business. Whether you are a Clip 'n Climb operator already or you are looking for a business opportunity, there are smart moves to make – Let's plan ahead and keep an agile mindset!
Positive thoughts
As we're gradually seeing the light at the end of the tunnel – the possibility of reopening, we can envision our businesses transitioning back into the 'new normal'. The way our consumers consume will change, and we might have to rethink our operations. But the desire to spend quality time with friends and family will be more prevalent than ever in our mindset.
Throughout the years, we have selected and manufactured all of our solutions with the best features for an activity that meets market demand. Our concept is loved by parents and kids alike, as Clip 'n Climb offers healthy activities for all ages. We remain optimistic that – no matter how bad the crisis gets – fun climbing will stay a profitable trend.
What a better opportunity to own a business that encourages people to have fun safely in the sportainment market? The Clip 'n Climb global community will continue working with this philosophy. We firmly believe our industry still has great days to come.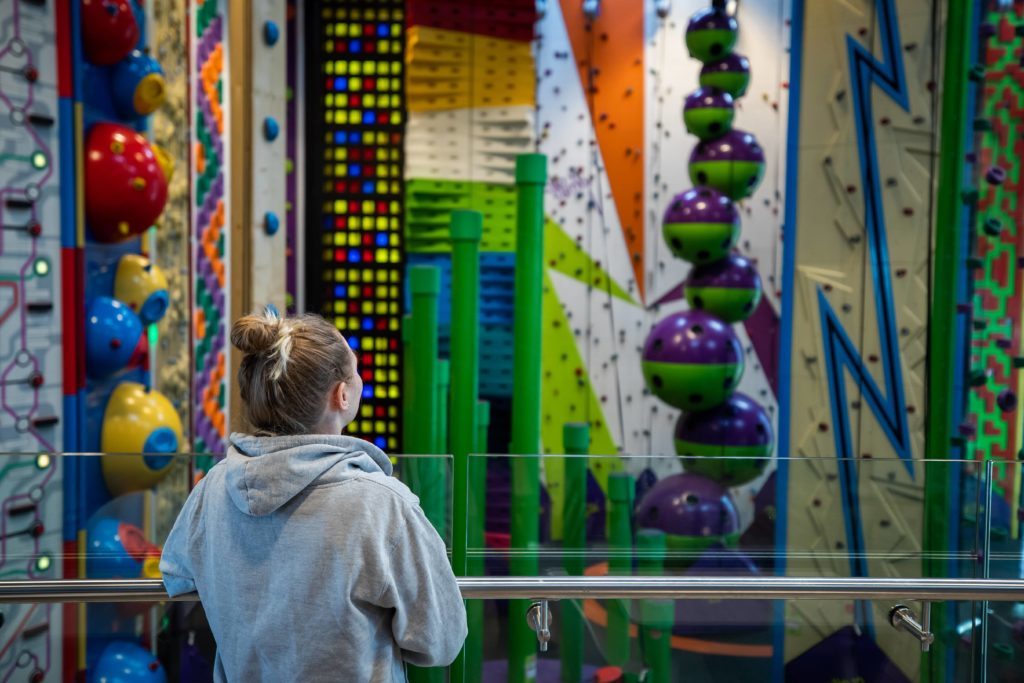 Preparing for the future
The Clip 'n Cilmb Extranet, our private platform for owners with more than 200 operators registered, is a great place to exchange experiences and initiatives. We created a dedicated forum called "COVID-19 talks" to encourage the discussions among professionnals. It is also an amazing resources centre for operational and marketing tools. On this Extranet, below are some of the sbujects we have already interacted about:
The new safety and cleaning measures operators will have to introduce to their daily routine to ensure staff and customers' safety.
Best practices for equipment maintenance.
How to stay in touch with customers through social media. It is important to keep your community entertained through contests or fun games to win a free climbing session!
On another hand, if you are a go-getter looking for an opportunity to invest, this situation allows you to reflect on your project and be forward-looking.
Contact our sales teams for detailed plans and discover how profitable a Clip 'n Climb business can be.
Conduct extensive research to get to know the industry in which you are about to operate.
Gather all the resources you have and see where there is room for improvement.
Our response to the new priorities : a consumers survey
This unprecedented situation is going to change our mindset and will cause a shift in our perception. Good cleaning and hygiene practices will become the number one priority for people. Clip 'n Climb as a manufacturer, and through our operators, will make sure to reassure the parents and children visiting our centres. Our on-going support for owners will be even more prevalent.
Clip 'n Climb asserts its position as a prevailing brand on the international market. We are currently working on a monitoring panel to collect data on the collective state of mind and health measures which could reassure visitors. We want this survey to be international and not only focused on Clip 'n Climb facilities. Our objective is to have an overview of the global leisure industry.
Centre owners who would like to be involved in the process can contact us directly. The more data we have, the more accurate insights we will have, and the more useful it will be. We will be making an effort to work closely with our operators to provide you with as much support as possible.