Clip 'n Climb UK announces reopening dates
Following Government guidance, we are excited to announce that some centres will reopen from Saturday 25th July. Reopening dates may vary between England, Wales, Scotland and Northern Ireland. We encourage all visitors to check their local Clip 'n Climb's website and social media pages for specific details.
In preparation for our nationwide reopening, our UK centres have been working hard behind-the-scenes to ensure our guests can return to a safe and enjoyable environment and climb with confidence once open.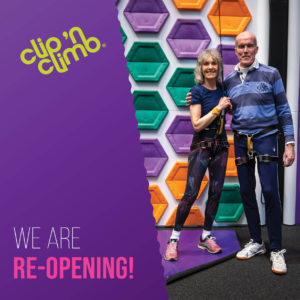 Michelle, Clip 'n Climb Plymouth General Manager, said: "It's been a challenging three months, but thanks to our collective effort and the support of our staff, we can finally welcome back our customers and start looking ahead."
Tempted by the Clip 'n Climb adventure? Download our Investor Guide to check out all the possibilities. 
Based on our global survey results, Clip 'n Climb are taking the following steps to welcome guests back safely:
#ClipClimbClean
Hand sanitiser will be available throughout all Clip 'n Climb centres for you to use after every climb. The Clip 'n Climb team will be regularly cleaning all touch surfaces throughout the day.
Reduced session sizes
In accordance with Government guidance, session sizes will be reduced to make it easier for everyone to keep a safe distance.
Face coverings
Clip 'n Climb staff will be wearing appropriate PPE and customers are welcome to bring their own face coverings if they wish to do so.
Book online
Pre-book your Clip 'n Climb experience online and pre-pay to avoid unnecessary waiting on arrival. Visit your local Clip 'n Climb's website now to check availability and book your visit.
Contactless
Clip 'n Climb centres are encouraging contactless payments. Guests will be able to purchase add on items at booking stage.
Social distancing
When you visit, each Clip 'n Climb centre will have markings and signage to guide you and help you keep your distance from others.
As always, the safety of our customers and staff is our top priority and we will continue to follow Government guidelines to make any necessary alterations. Thank you for your continued support and we look forward to seeing you soon.
For further information please contact our UK office or reach out to our local experts.