Owner's interview: Clip 'n Climb Edmonton
Today in our Owner's Interview series, we would like to introduce you to Mike Beier. Mike is the owner of Clip 'n Climb Edmonton, located in Alberta, Canada. With COVID-19 restriction currently being lifted, the centre just started to welcome back visitors this July. He proclaimed himself as a "happy owner" he is convinced his business will come out very strong of the unprecedented year we had.
How did you find out about Clip 'n Climb?
We found out about Clip 'n Climb through friends visiting us from Australia late in 2017. They had the same aged children as ours, and call it fate (or luck), the topic of conversation over dinner turned to our search for franchise-type opportunities that would fit our family and lifestyle. They asked if we'd heard of Clip 'n Climb and described how fantastic the experience was for families, and we immediately jumped online to check it out. We were excited at what we saw in those videos, and asked ourselves why on earth this fantastic experience wasn't already in Edmonton! We contacted Clip 'n Climb International the very next morning and put the wheels in motion to secure our region.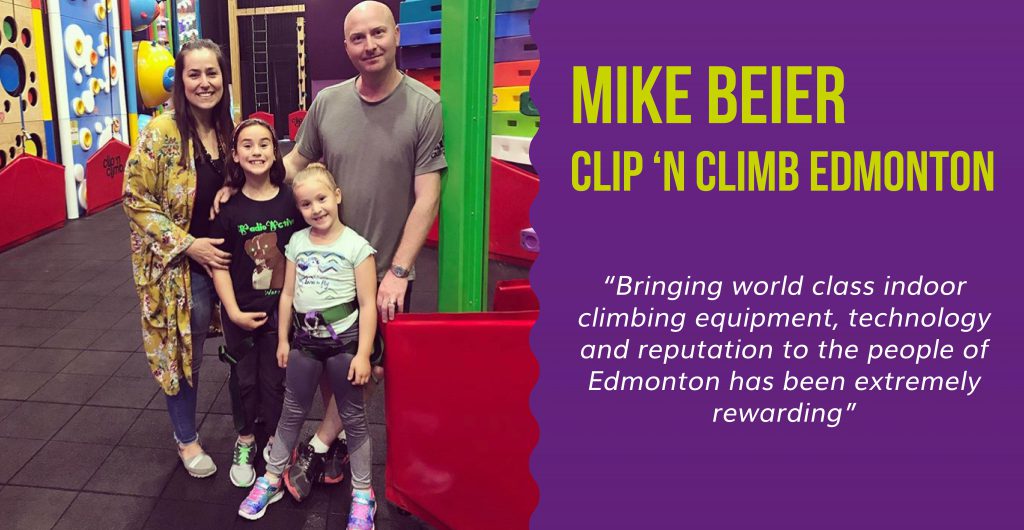 How would you describe running a Clip 'n Climb?
Running a Clip 'n Climb facility in Edmonton, cultivates in us a great deal of pride. Edmonton is a city that is frozen for nearly 7 months of the year, so bringing world class indoor climbing equipment, technology and reputation to the people of Edmonton, in an activity that is fun and inclusive to all ages and backgrounds, has been extremely rewarding and continues to be. When you can help novice adults, kids and those with special needs transform and push boundaries well beyond comfort zones, all within a short space of time, it is truly gratifying.
What advice would you give to future Clip 'n Climb Centre owners?
Beyond the obvious challenges inherent in building-to-suit and getting everything to the point of being open for business and welcoming customers through the door, we believe it's very important to know all the operational roles, how they inter-connect and how the systems all work together. 'Flow' is a key word that shouldn't be underestimated. Understanding that positive customer experiences begin the moment they first interact with the website you developed, how well they navigate the online booking process you implemented, when they arrive to check-in – how well prepared they are from the information you've imparted to them, how well they grasp the safety demonstration from the knowledgeable staff you've hired & trained, how well they perceive and interact within a climbing arena that is cleaned thoroughly (and regularly) by staff who take pride in their work environment, and is topped off by the sense of achievement that comes with completing an activity that has challenged oneself. All these moving parts working and flowing together, absolutely shapes how a customer feels about the entire Clip 'n Climb experience. By being involved in the hour-to-hour operation of our facility, we have been able to hone in on all of these aspects, to continually strive for improvement, and to build upon our strengths, all with the aim of enhancing the likelihood that customers offer positive feedback to those in their circles and Clip 'n Climb becomes the topic of conversation amongst their family and friends. The best part is coming to know and welcoming back many customers through their repeat business.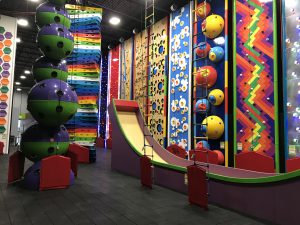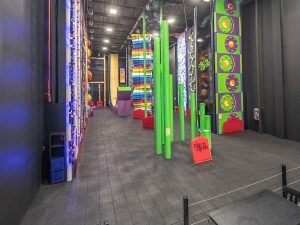 Share a fun fact about yourselves
My Australian wife Leah and I met in late 2000 while I was backpacking through Australia. Her dedication to a man who at the time had few clothes and a suspect personal cleaning regime should definitely be commended! We eventually established ourselves in my hometown of Edmonton, Alberta and we are raising our 2 daughters Olivia (12) and Ruby (9) at the same time as operating a thriving business together. Leah is the lead singer of a popular local Edmonton rock band and plays numerous large gigs at festivals and clubs throughout Alberta. As for myself, I have played Pool for over 25 years and in that time have gotten fairly decent. If I happen to meet you one day on a pool table, I would strongly advise against trying to double your money.
We hope you have found some of this information to be helpful. Good luck to all future investors and owners!
If Mike convinced you to join our international network of Clip 'n Climb owners, contact our team now to get more information! We believe everyone can run a strong and fun business.