Why multi-activity centres are investing in Clip 'n Climb
Multi-activity centres continue to invest in Clip 'n Climb, and if you have ever visited one, you'll understand why!
The WOW factor
Visitors to our climbing arenas instantly get that WOW factor, and it's not just because of the height of our climbing challenges, it's also the bold designs, bright colours and fun, positive atmosphere the Clip 'n Climb brand has become well known for globally.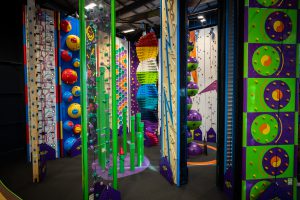 Increased capacity
Although our challenges look big due to their height, they only have a small footprint. With Clip 'n Climb, a 70m² area is enough to create a real impact and see a capacity of 15 people at any one time (30 per session) in your own Clip 'n Climb arena, compared to a trampoline park, which needs a minimum of 150m² to gain interest.
We also have challenges for those unloved corners, designed to brighten and offer a different climbing experience all whilst increasing your arena capacity.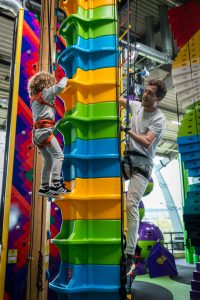 It is for everyone!
Whilst our core demographic is 6 to 13 year olds, we have climbing challenges suitable for children as young as three, and for those young at heart up to 93! Each climbing challenge has a variety of ways to navigate it with the option of making the climb easier or harder, this sees climbers coming back time and time again to improve on their climbing ability.
We also give a guide to our challenges, so you can see the level of difficulty, agility and courage required, helping you to choose which challenges would best suit your activity centre, target audience and budget.
Increase off-peak revenue
It's easy to increase footfall during traditionally quieter periods with dedicated Clip 'n Climb sessions such as:
Pre-schoolers – arrange sessions for parents and toddlers, where they have exclusive use of the arena during school hours.
Fitness classes – these could be booked in blocks.
School groups – either one off visits or built in as a weekly activity to help with their physical education.
Special needs / disability sessions – climbing can be suitable for people with some disabilities. Arranging dedicated sessions off-peak for children and adults with special needs and disabilities may encourage them to give climbing a try.
Corporate groups – Clip 'n Climb is a great team building exercise and perfect as part of a team away day.
Add-ons
There is also the opportunity to increase your revenue by introducing challenges such as drop slide and leap of faith, where climbers pay an additional amount upon booking or arrival to really test their strength and courage.
It's safe
Safety is our number one priority, that's why we invented the BelayMate, which provides 100% safety for climbers when attached to an Auto Belay.
With our own operating facilities around the world, we extensively field test all new challenges before they are launched, giving you peace of mind that they are 100% safe.
We will train your team how to safely use the equipment and have extensive operational guidelines for you to refer to. Our climber briefing video is also available for you to use within your centre as part of your safety briefing before each session.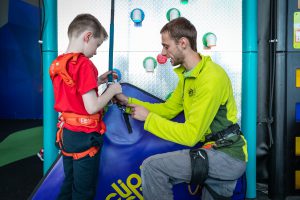 Support
We pride ourselves on our aftersales support, giving you access to our extranet which holds an extensive library of images, manuals, operational guides and documents, and a forum where you can discuss topics and share good practice with other Clip 'n Climb owners across the globe, all 350 of them! And of course, our international team are always at the end of the phone.
If this is just what you have been looking for to really give your multi-activity centre a boost, then please get in touch