Clip 'n Climb achievements that are helping us reach new heights!
A brief introduction to the Clip 'n Climb concept
Clip 'n Climb is the creator of the fun climbing concept worldwide.
And even faced with the economic challenges experienced throughout the pandemic, Clip 'n Climb is still thriving!
With climbing being added to the Tokyo Olympics this year, it doesn't come as a surprise to see the indoor climbing market growing in popularity (40 to 50% surge in people wanting to climb indoors). More and more people are looking for fun, interactive ways to stay fit – and many of them are turning to Clip 'n Climb for their climbing fun.
Investors, are you looking for solid arguments to invest in Clip 'n Climb? Find out why opening your Clip 'n Climb zone can be a great move in our Handbook!
We opened 18 new centres in 2021. With all things considered, such as the current health crisis and economic downturn, this is a great feat! Today, Clip 'n Climb Challenges can be found in more than 340 centres in 50 countries. Our concept is suitable for different set-ups: whether you want to start a stand-alone facility, add an adventure corner, or run your own family entertainment centre, we can help you! We will provide you with operational and marketing support.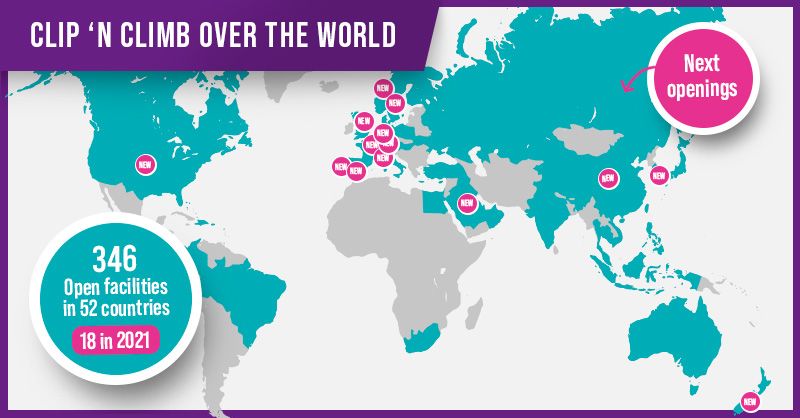 Want to know more? Get the Clip 'n Climb handbook today!
Learn more about all the opportunities we have to offer: concept, products and solutions.
GRAB YOUR CLIP 'N CLIMB HANDBOOK
What have we been up to since 2021?
A new addition to the Clip 'n Climb selection is the Champion's Series, designed to reproduce the Olympic spirit! It is a new set of walls that comprises of fun new ways to promote a healthy competitive environment for climbers. The Champion's Series consists of three types of walls, based on each Olympic discipline: Lead, Bouldering and Speed climbing. With a small footprint but a big impact this is surely something you may want to seriously think about in your entertainment venue!
Only a few months after the launch, the full series will soon be installed in Dix31 in France. Would you like to find out more about the Champion's Series? Then check out the Champion's Series webpage.
We have also developed 5 new Prima Challenges. These compact Challenges allow indoor activity centres, climbing gyms and FECs to introduce new activities and maximise space. It represents a new opportunity to extend your portfolio and add more to your adventure park.
Our success story keeps getting better!
With our beginnings in New Zealand, and recent expansions we have experienced exponential growth in the last few years alone, expanding in the United Kingdom and relocating our central Clip 'n Climb Hub from New Zealand to the United Kingdom.
In the United Kingdom, Clip 'n Climb is now offered to franchisees who are seeking a complete turnkey business model. The franchise model has been designed for owner operator franchisees who will manage the business on a local basis to the format developed for the brand. Each franchisee will have staff to support them in the delivery of the service with clear operating standards, supported by a training and support programme, our franchise operating manual, on-site business visits and our marketing strategy and ongoing marketing support. We recently added Pip the Possum, our new mascot, and South Ridge Café to the franchise possibilities!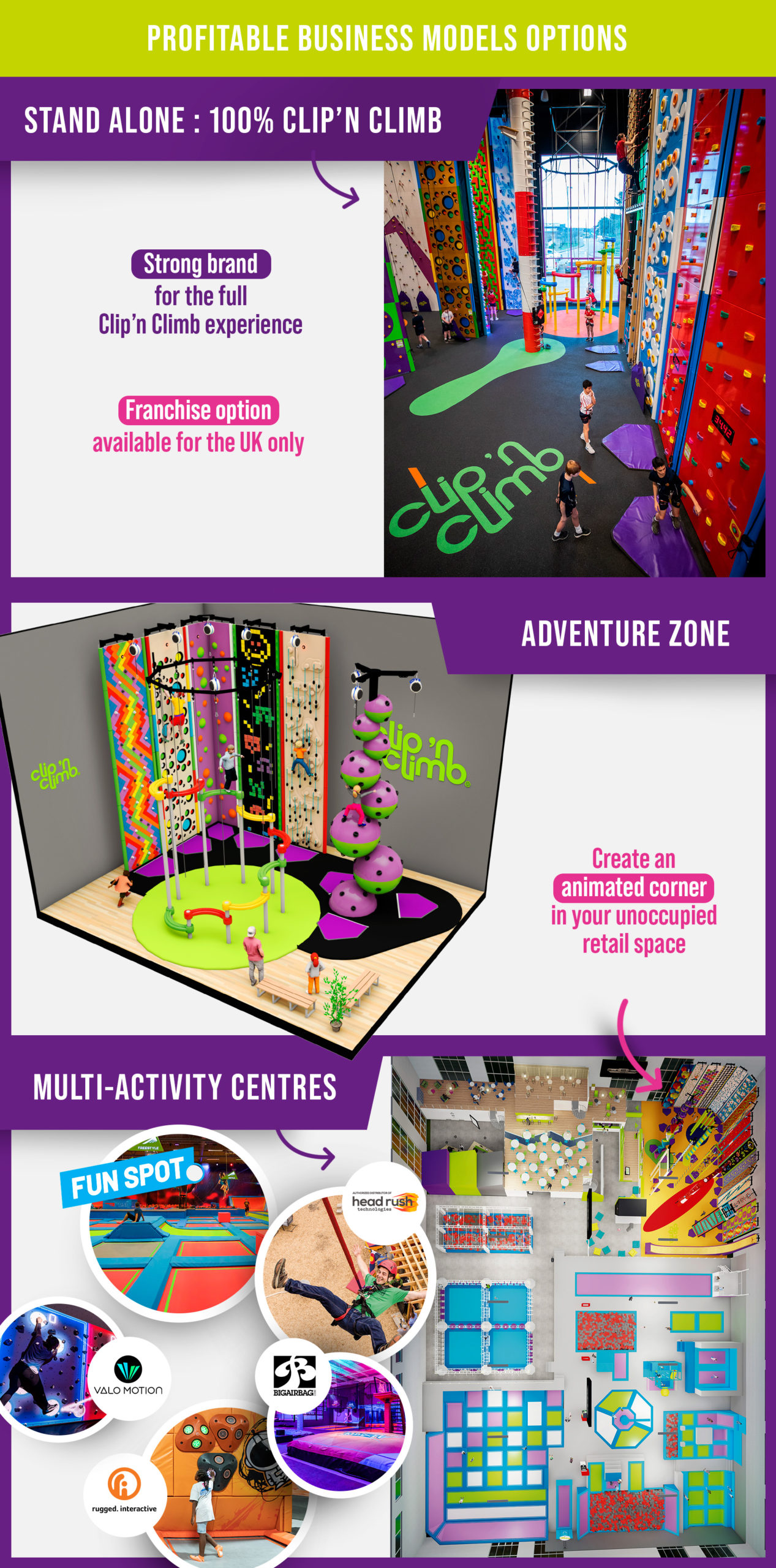 Working with Fun Spot, we are creating active entertainment solutions. One year after the launch of the EMEA sales organization, the results are positive! 15 installations within multi activity centres are in the process of being designed or installed.
Interested? Get the Clip 'n Climb handbook today!
Learn more about all the opportunities we have to offer: concept, products and solutions.
DOWNLOAD