New Challenge Clip'n Climb : The CONSTRUCTOR!

New Challenge Clip'n Climb : The CONSTRUCTOR!
NEW CHALLENGE: THE CONSTRUCTOR IS HERE!
After designing the first corner challenge a few years ago, known as "The CORNERED", we've wanted to expand the range which is why we have now added a new member to the family of corner Challenges named "the CONSTRUCTOR" Challenge. This brand-new challenge is unique to Clip'n Climb, who are now offering not just one but TWO challenges which will allow you to bring any empty corners to life!
CORNER CHALLENGE CONSTRUCTOR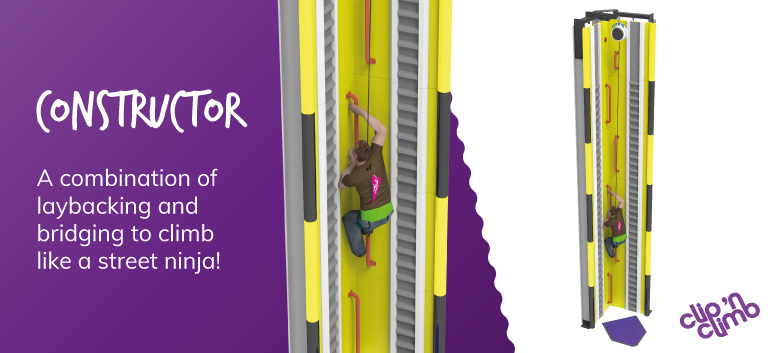 This new enthralling corner Challenge has added a splash of yellow to the Clip 'n Climb range, this Challenge is sure to bring any corner in which it is installed to life. The CONSTRUCTOR is adapted for single person climbing and is for intermediate level climbers (6 agility / 7 strength / 7 courage). You will be able to climb like a street ninja!
CORNER CHALLENGE CORNERED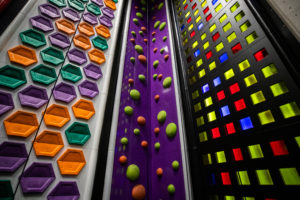 CORNERED was our first corner Challenge which is also adapted for single person climbing. It is for high/intermediate level climbers (9 agility / 5 strength / 6 courage). Put your skills to use and test your level! Easy retrofit from one corner challenge to another.
GENERAL CORNERS CHALLENGES INFOS
Here at Clip 'n Climb we have more than 50 Challenges adapted for people of all ages!
We offer more than 50 colourful Challenges suitable for everyone from the age of 4 to 104 years old, pushing their limits in a fun way.
We have 3 categories of challenges, different styles and characteristics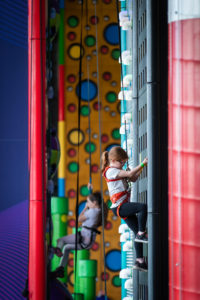 Signature: The eye-catching challenges that will set any centre apart – 14 challenges :
The TOP challenges for this category are : Astroball / Stairway to heaven / Vertical drop
Classic: The fundamentals of each Clip 'n Climb centre – 29 challenges, including our new corner challenge CONSTRUCTOR
The TOP challenges for this category are: Speed climb, big cheese, hexed
Prima: 10 challenges: These challenges are fun, compact and simple
– Adapted to Smaller spaces
– Perfect solution to find the right balance between simplicity and efficiency.
EVERY CHALLENGE IS AN ADVENTURE
Every Challenge is an adventure. The unique designs invite participants to try their best to reach the top.
Beyond the visual aspect, we also work on the tactile characteristics of our Challenges. Soft, rough, cold, made of plastic or even Velcro, each of them looks and feels different from their neighbouring Challenge.
The wide variety of hand and foot holds also enhances the importance that each climbing experience is unique.
For more information about why you should invest in Clip 'n Climb :
New Challenge Clip'n Climb : The CONSTRUCTOR!