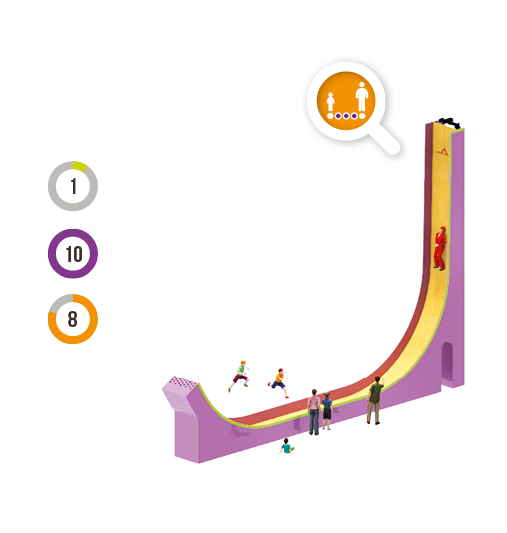 Vertical Drop Slide
In this extraordinary experience, you are kitted out in a skydive suit and a helmet.
Holding on to a handlebar, you are pulled up the face of the slide. At the 9-metre high top, you can let go at any time you choose.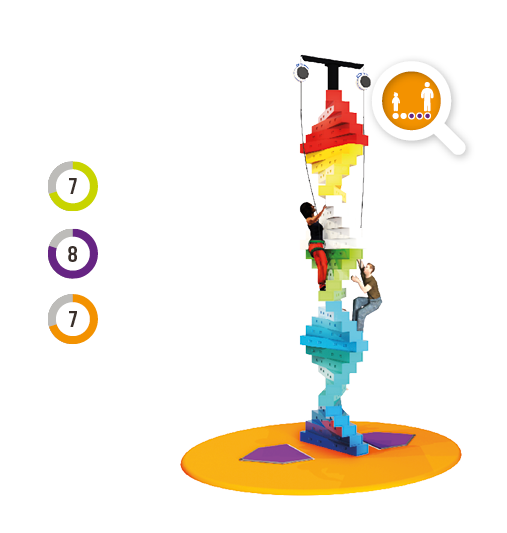 Twister
An absolutely stunning and powerful visual attraction.
Twister is not only a centre piece; it is a great climbing challenge, where you can peep round the corners at the other climber.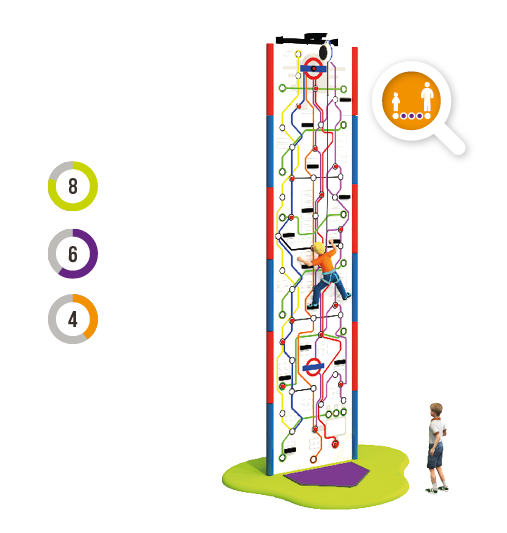 Time Traveller
The Time Traveller features a countdown clock and optical sensors to create a truly interactive Challenge. With eye-catching graphics inspired by the London Underground map, climbers select the speed of the countdown clock and have to get to the finish before their time runs out.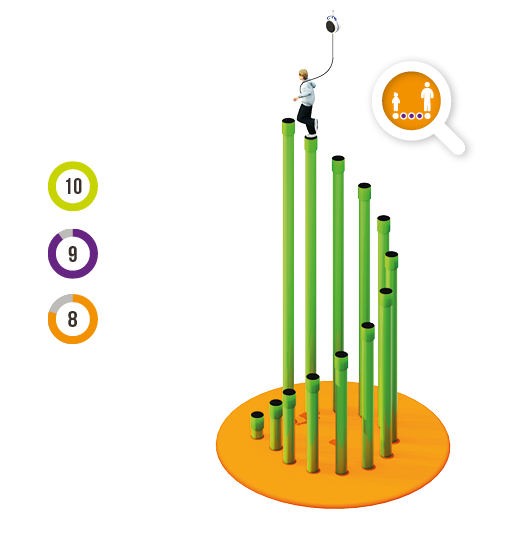 Stairway to Heaven
Stay calm and well balanced on this signature element that is always busy.
No hands required – climbers are challenged instead to walk their way to the top, using steady balance and careful footwork to avoid the drop.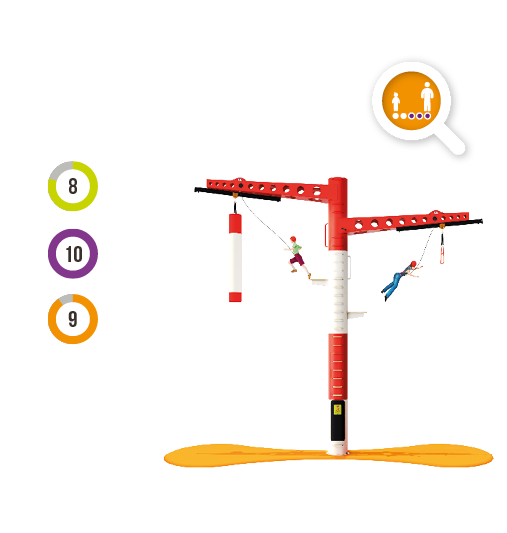 Leap of Faith
This adrenalin-pumping challenge is an immensely popular element.
The goal is to climb up the central pole and onto the jump platform, where the participant leaps out to catch hold of the trapeze.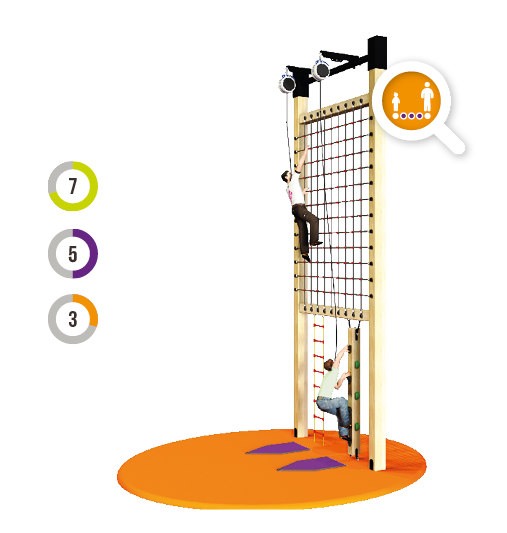 Jungle Gym
This satisfying commando-style Challenge requires strong arms and determination… it's a tough physical challenge that has proven to be a natural draw card for climbers of all ages. There is a choice of two different routes up to the cargo net and then climbers face the task of grappling their way to the finish.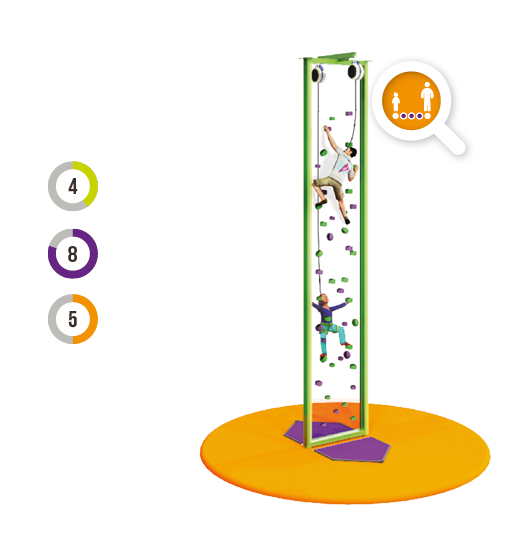 Face to Face
Race your mate to the top of this very popular element.
This stimulating and highly original climbing Challenge uses commercial gauge clear acrylic.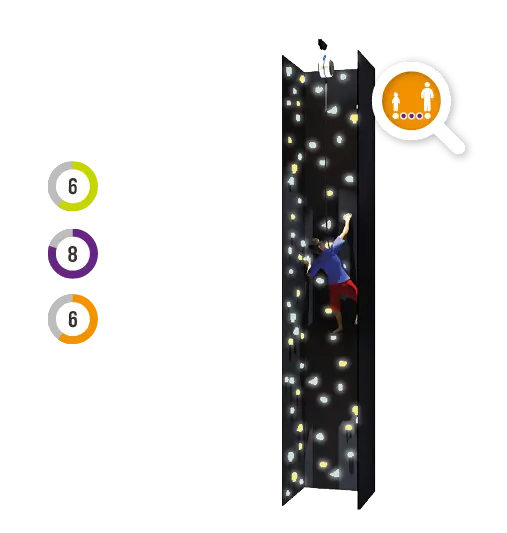 Dark Tower
An extremely popular night-climbing experience. LED lights backlight the translucent climbing holds to create a great challenge that requires focus, careful foot placement and determination to get all the way to the top.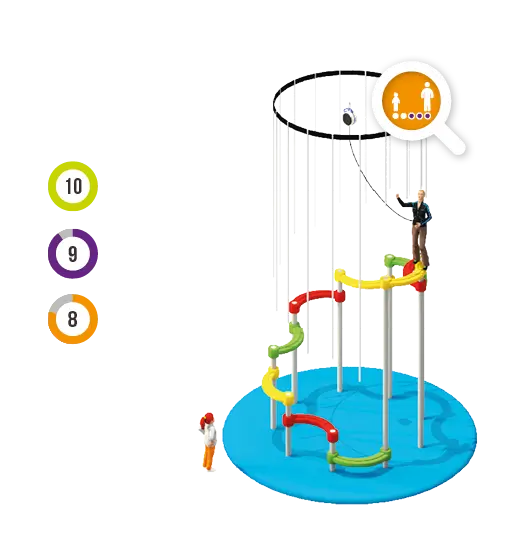 Cool Bananas
Inspired by the transitions on an adventure ropes course, but with the added challenge of climbing. Climbers must negotiate the nine banana shaped transitions whilst climbing to the top with the aid of the hanging ropes.
Circuit Breaker
Get to the top in electronics! This circuit board creates a wonderful abstract pattern, lighting up your day! From the gently pulsing connection lines to the flickering hi-voltage handholds, choose the round flashing holds or the solid square holds to reach the top, while coping with the bright lights…